You can compute your estimated cost from
our standard fee chart
10 Steps for Data Conversion

Decide which software you want to convert to

Look up the standard fee, based on the number of contacts

Sign and fax the Service Level Agreement
as we provide you the NonDisclosure Agreement

Find the list of files you need to send (see chart)

Zip (compress and package) them, and upload via DataUpload.com

You will receive a confirmation of the order and invoice for your records.

When we finish the conversion, we send you instructions for downloading the result by email. Please pick it up within one week.

Call with any questions on installing, or feedback

When you are satisfied, send us an Evaluation, authorizing us to delete your database on our computers.

Please keep us in mind if your staff needs training.
Enjoy using your data in the new software!
---
Icon

Software

Consulting & Training

Data Conversion

ASCII Files
DOS File Management
ASCII, comma, tab, or any character delimited
Microsoft Access
Access-Help.com
AccessConvert.com
ACT!
ACTHelp.com
ACTConvert.com
Apple Macintosh
AppleMacHelp.com
AppleConvert.com
Lotus Approach
Approach
Approach convert
Broker's Ally
BrokersAllyHelp.com
BrokersAllyConvert.com
Contact Information
Assistant
CIAHelp.com
CIAConvert.com
Commence
CommenceHelp.com
CommenceConvert.com
dBase
dBaseHelp.com
dBaseConvert.com
Microsoft Excel
ExcelHelp.Us
ExcelConvert.com
Microsoft FoxPro
FoxProHelp.com
FoxProConvert.com
Goldmine
GoldmineHelp.com
GoldmineConvert.com
Bill Good's
Gorilla Marketing
Gorilla
GorillaConvert.com
Novell
Groupwise
GroupwiseHelp.com
GroupWise Convert
Inscomm
Inscomm
Inscomm Convert
Lotus Notes
Lotus Notes Help
Notes Convert
Maestro
Maestro
Maestro Conversion
Maximizer
Maximizer-Help.com
MaximizerConvert.com

Microsoft CRM
MicrosoftCRMHelp.com
MSCRMConvert.com
Microsoft SQL
Microsoft SQL
database conversions
MM
Multimate
Multimate
document conversions
Novell
BTrieve
NovellHelp.Us
BTrieve / Pervasive
database conversions
Oracle
Small Business
Oracle Small Business
XML conversions
Microsoft Outlook
Outlook-Help.com and
Business Contact Manager
OutlookConvert.com

Palm database

PalmHelp.Us
PalmConvert.Us
HP Palmtop
HPPalmTop.com
PalmTopConvert.com
Pocket PC
PocketPCTraining.com
PocketPCConvert.com
Paradox
Paradox
Paradox conversions
Symantec Q&A
Q&A
QAConvert.com
Quicken
Quickbooks
Quicken & QuickBooks
data conversions
Microrim R:Base
R:Base
data conversions
Salesforce.com
SalesforceHelp.US
SalesforceConvert.com
SalesLogix
SalesLogixHelp.com
SalesLogixConvert.com
Sharkware
SharkwareHelp.com
SharkWareConvert.com
TeleMagic
TeleMagicHelp.com
TeleMagicConvert.com
Tracker
TrackerHelp.com
TrackerConvert.com
Wang
Wang
document conversions
WordPerfect
WordPerfectConvert
document conversions
WordStar
WordStar
document conversions
XML
XML
XMLConvert.Net
data conversions
We specialize in Contact Management or
Customer Relationship Management software
CRM Conversions
We can also help you Combine data
from a variety of places into one relational database
Converting Data from Around the World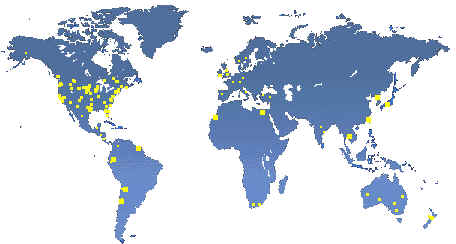 Rick Shaddock - DrConvert.com
"Thanks Rick! It is like getting my life back!"
John Sherry of SFI Investments
His years of data entry into Sharkware was retrieved into ACT!
---

Data Conversions transplant the "brain" of your business, and the
"memory" of all your contacts and activities "embodied" in new software.
For the same cost of the tools, you can have an experienced expert do the operation.
Call for a free estimate
202-829-4444
800-DATA1-OK
Some of our Conversion Computers
We can also help "clean up" your data

We can also help clean out
phone numbers on the
Do Not Call List
---
Webmaster: Oksana.org
Converted from Russian to American