We help you migrate to the software you prefer, and carry forth your years of typing. We can convert your database from and to any of the major data formats.
How much is it?:
Very cost effective! You can compute your estimated cost yourself, from our
standard fee chart
What are the steps?:

1. Decide what you want to convert to
2. Count the contacts in your database
3. Look up the standard fee
4. Find the files files needed to send
We can help you via Join.Me
5. Compress or "zip up" the files
6. Read the Service Level Agreement
7. Read our NonDisclosure Agreement
8. Upload the Zip to us via WeTransfer
9. Receive our invoice for your records
10. Authorize payment (usually credit card)
11. We work on your database (ETL)
Extraction - data from the old software
Transformation - adjust for the new
Loading - importing into new software
12. Download the finished database
13. Call with any installation questions
14. Send us an Evaluation
15. Authorize us to delete your data
16. Enjoy your data in your new software!
Go to https://WeTransfer.com
Select the file such as "MyDatabase.zip"
Send to Convert@CICorp.com
Enter your email address at your company
Message is optional, such as a password if necessary, then click Transfer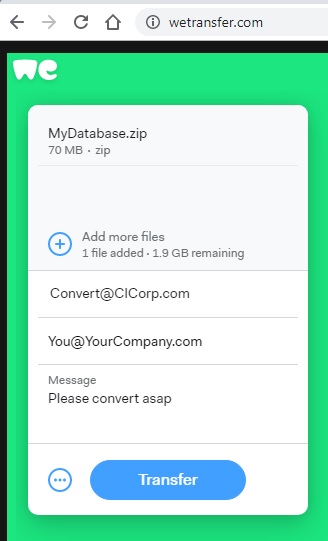 Please keep us in mind for training
of your staff in your new CRM or ERP software
Our Quality Assurance Check List
References are available upon request.
"Thank you ever so much for all of your assistance in converting our old Q and A system to a new workable form. No one could have been more helpful. As a small business in business for 26 years, we so much appreciate your conscientiousness and great service" - Bob Anderson of Aaron's Oriental Rug Gallery
Most of our conversions are for financial planners and wealth advisors.
What 60 data formats can we convert?
ASCII files - all delimiters
Access - Microsoft
ACT! and ACT! Cloud
Apple Macintosh
Approach - Lotus
Broker's Ally
Broker's Helper
Broker's NoteBook
Btrieve
Business Contact Manager (MS BCM)
CiviCRM
CardScan
Contact Info. Assistant
ContactPlus
C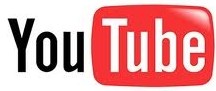 ommence
DataPerfect
dBase
Epicor
Excel - Microsoft
FileMaker Pro
FoxPro - Microsoft
Goldmine
Bill Good's Gorilla
Groupwise - Novell
HighRise
HP Palmtop
InfoFlo
Inscomm
Intellect - Chaos software
Intelligent Advisor
Lotus Notes
Maestro
Maximizer (Maximiser in UK)
Microsoft Dynamics CRM
Microsoft SQL
Multimate
NetSuite CRM
Novell BTrieve
Oracle Small Business
Outlook - Microsoft
Palm database
Plaid Brothers
Pocket PC files
ProspectSoft CRM
Protractor
Paradox
Q&A - Symantec
Quicken or Quickbooks
R:Base - MicroRim
Salesforce.com
SalesLogix
Sharkware
SugarCRM
SQL Assistant
TeraData
TeleMagic
Text / Optical Character Recognition
Tracker
Wang
Word
WordPerfect
WordStar
XML
Zoho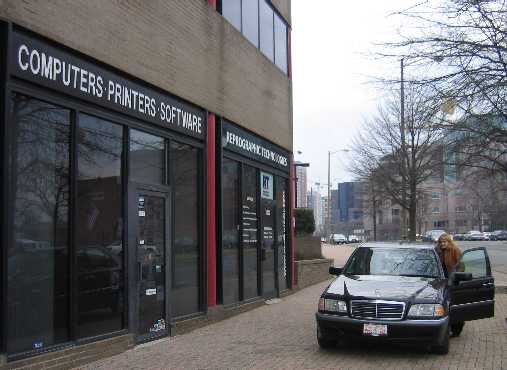 We use Square
which securely protects your credit card