---
Amenian Development Agency (ADA)

Tigran S. Seiranian
Consul of The Embassy

Embassy:
2225 R Street, N.W.
Washington D.C. 20008-4028, USA
(202) 319-1976 , fax (202) 319-2982
ACT! was selected as the best CRM solution by the ADA and MIGA
to help them promote Armenia to foreign investors and employers.
Crystal Reports helps provide the data in a clear format.
They needed a reliable system, installed right the first time, with the staff trained properly,
as there would be no funds or opportunity to fly back to Armenia. They chose CICorporation.

World Bank
Multilateral Investment Guarantee Agency
International Development Association
Japanese Grant TF 050512


Flight: 5920 miles or 9527 kilometers
Photos from the mission

Armenia National Anthem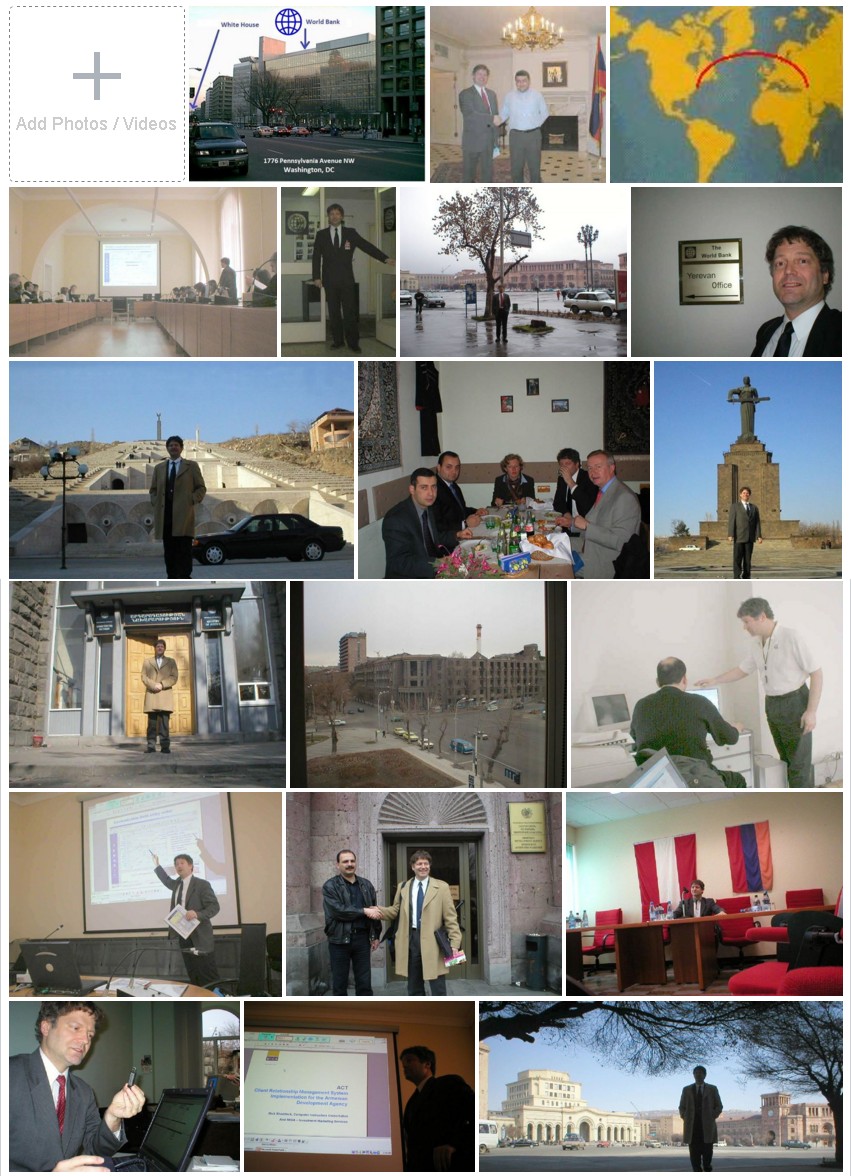 CRM training for Armenian Development Agency

Featuring ACT! (PowerPoint 2 megs) using Dell laptop

Sponsored by the World Bank / MIGA / IDA

Training the Database Administrator

Armenian officials lunch with consultants
from Austria, US, and the UK

Republic (formerly Lenin) Square in Yerevan
Ministry of Finance in the background

Armenian Government building and guard

Armenian Development Agency HQ

Republic of Armenia Executive Building

Ministry of Finance and Economy

By Yerevan Steps with rented Mercedes Benz

Ministry of Justice Headquarters
Excellent Evaluations Results from Course participants
Proposal Letter


CICorporation.US
500 N Street, SW
Washington, DC
202-829-4444

Dear Mr. Harutyunyan:

Thank you for the opportunity to bid on this interesting project. Here for your review is our:

Please feel free to call or email me any time if we can be of assistance.

Rick Shaddock
Rick@CICorp.com

Award Letter

Rick beats Best Software's "best"
including spotlight ACC's Bevan, Ed & Brian
Armenia - American alliance against terrorism
World Bank Information about Armenia (PDF)
Congress Hotel, Yerevan
Adagio Invención from "Gayane" ballet by Armenian composer Aram Khachaturian