ConvertMaximizer.com
Converting to and from MultiActive's Maximizer
In the UK, it is spelled Maximiser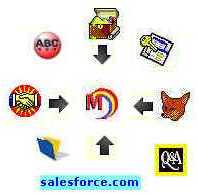 We specialize in getting all the details from one database format into another.
So you don't have to re-enter your database, to switch to Maximizer.
We have years of experience doing projects with Maximizer
Solution: We can convert your data to Maximizer from
We can convert all your major details

Company names, addresses, phones, fax, web sites

Contact names, addresses, phones, fax, email

User defined fields

Notes

Appointments

Hotlist Tasks

Orders

Work in progress
Documents - those made in Maximizer's Word processor. We only have a very manual procedure for this now. $1 per document.\

User names on Calendar activities
---
If you have several Maximizer databases you can combine them in to one database, to save on costs
Note: We convert to the regular version, not the SQL version.
You will need to upload the regular to SQL,
which is an easy process in your own network environment.
---
202-829-4444
800-319-3190