Have Attachments the way you want


Krishna to Arjuna
"Be free from the binding influence of attachments."
Change the path of attachments stored within ACT!
Coming soon - Fixing Attachment paths automatically in ACT!
| | |
| --- | --- |
| Before | After |
You may find yourself bound to specific folders for your attachments. Even if you move the attachments they do not automatically move in ACT! Here is an enlightened path - a tool which will give you freedom to change the paths at will.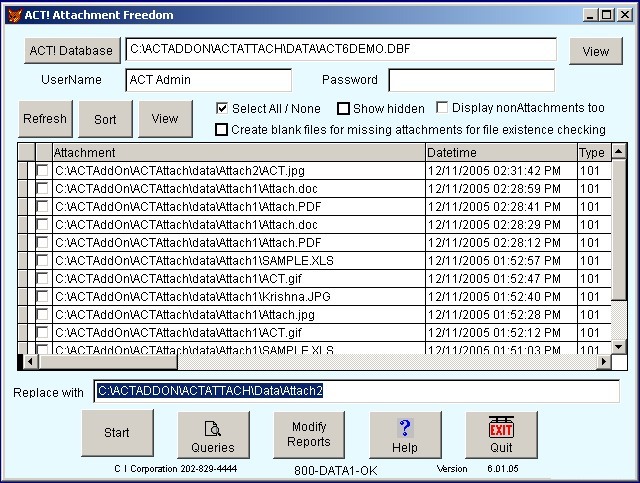 Advantage

Attachment Freedom

You can specify that you would like All attachment paths changed to a specific path, or just some. Otherwise, you must specify each path one by one. There could be hundreds!

NO
Processes only one folder at a time, one by one.

YES
You can specify one, some, or all folders at once

Automatically validates the paths of attachments - so you can tell if they will actually work!

NO
You might make a type-o on the attachment, and not notice it

YES
Warns you if the path does not exist

Can process Code 100's (regular notes with paths in them) or Code 101 Attachments.

NO
Only processes attachments

YES
Also does Notes containing paths

You can edit, delete, or archive old Attachments

NO

YES

Select the path to replace in certain files, for example by file type, even those with the same starting path. For example, if you want all DOCs to go to C:\My Documents and all Excel spreadsheets to go to D:\XLS_Files based on the file extension.

NO
You can't even see the individual file names, much less choose

YES
You can see, sort, and select by the file name extension

Generates a report of the output, so you can review what it did. You do not have to hope that it did the right thing. Each change is logged.

NO
You have no idea what it did to hundreds of files

YES
Gives you a complete tracking of what was changed

Sometimes multiple documents are listed in a string of attachments. These can be processed as if they were entered individually, one in each row.

NO
Only the first gets processed

YES
Converts all of them, even if there are hundreds

Facilitate upgrade to ACTSQL 7 or 8 (2005 or 2006) from ACT! 6 (2004) without getting the "Unable to convert the attachment" error message.

NO
Attachments must be there
to convert them

YES
Allows you to upgrade
in any network environment

Upgrades

NO
No improvements planned

YES
Free upgrades for Life
of your computer

Suggestions

NO
No suggestion box
The product is static

YES
We welcome, and will
implement your ideas

Technical Support

NO
You're on your own

YES
Toll Free 800-319-3190
24 hours 7 days a week
Attachment Freedom does not modify the attachment or its actual location, only the attachment link stored in ACT!

If you have moved the folder containing your attachments or remapped your server, the Attachment Freedom will reconnect the paths from ACT! to these attachments.

For example, you have remapped your server drive letter from S to the new mapping of drive Z, you can use Attachment Freedom to fix the links to these documents.

The top portion of the Select Attachment Paths screen displays a list of all of the possible attachment paths in the database you selected. It also displays sub-paths to give you the option to change all attachments on one drive, to another, or any subfolder therein.
Warning: Attachment Freedom will find and replace all instances of the path specified in the top window with the path specified in the "New Attachment Path" field. For instance, the above example would change all attachments that contain "C:\Program Files\Symantec\act4" to "C:\Program Files\ACT"
Fixes All Types of ACT! Attachments
File Attachments - Type 101
Letter Sent Attachments - Type 5
Email Sent Attachments - Type 16
Fax Sent Attachments - Type 50

The primary purpose of this utility nowadays is to prepare ACT! 6 databases for conversion in to ACT! 8.0 because when 8 is upgrading a 6 database, it does a mandatory check to see if the file exists in the folder specified. If it does not exist, the attachment won't be clickable in 8.

With this utility, users can move their attachments to a folder of their choice, and will not be stuck with keeping their attachments forever in a folder such as E:\Program Files Symantec\ACT\Document
---
Sample Tutorial - How to use Attachment Freedom
---
If you convert your database from ACT! 6.0 to ACT! 7.0 or 8.0 on a different computer or drive than the one that has direct access to the attachments, you will get error messages in the SQL version saying "Unable to convert the attachment:... The file is missing." This is due to the Attachment File Existence Checking (AFEC) that the ACT! SQL version automatically does. Attachment Freedom comes to the rescue with this option:
Create blank files for missing attachments for file existence checking
More Information on How and Why You Can Make Blank Attachment Files
---
Now you can be Liberated from the Binding Influence
of ACT! and the Migration Wizard
Now you can move them anywhere at will!
Get Attachment Freedom today!
ACT! is a registered trademark of Sage Software, Inc.
---
Attachments may be material possessions, fixations, or anything in the changing relative world of existence which distract a seeker of enlightenment from the higher good and benefits of life in Cosmic Consciousness. More information about this and the Sanskrit phrase to be without attachments "Nistray gunyo bhav Arjuna" can be found in the Bhagavad Gita of Vedic literature.