How To Download the Latest DNC List from the FTC
Step 2
Select tab 1. Government DNC List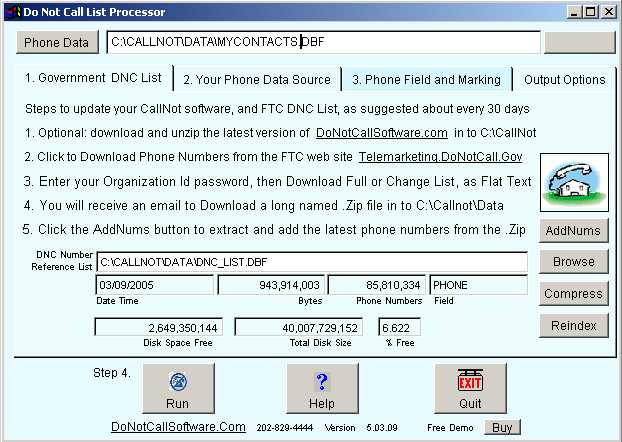 1. To get the latest Do Not Call list from the Federal or State Government Trade Commission
Click on the

button to
Go to https://telemarketing.donotcall.gov
They will give you a Login and Password for downloading.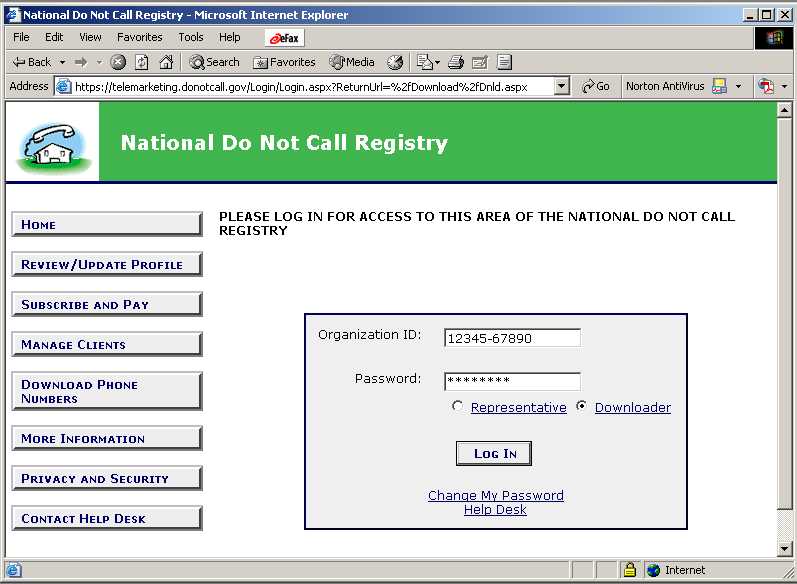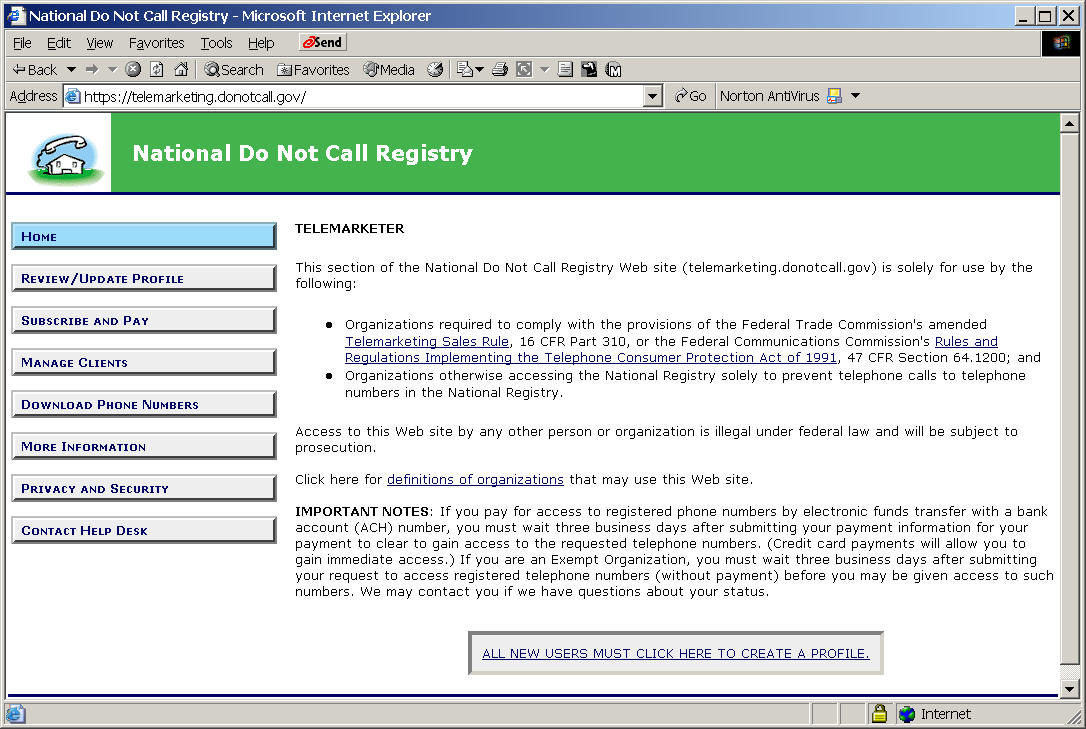 You will see the following screens
Caveat: Customers have reported that the Delta Download, even when done every month
misses some numbers. So we suggest using the Full Download every 30 days to be on the safe side.
| | |
| --- | --- |
| Step 1. Select Download Format: | |
Select the Flat Text File option, instead of the XML file option
Although you can use either one, Flat Text File is preferred,
as it is smaller and simpler in format.
You will receive an email at the registered email address.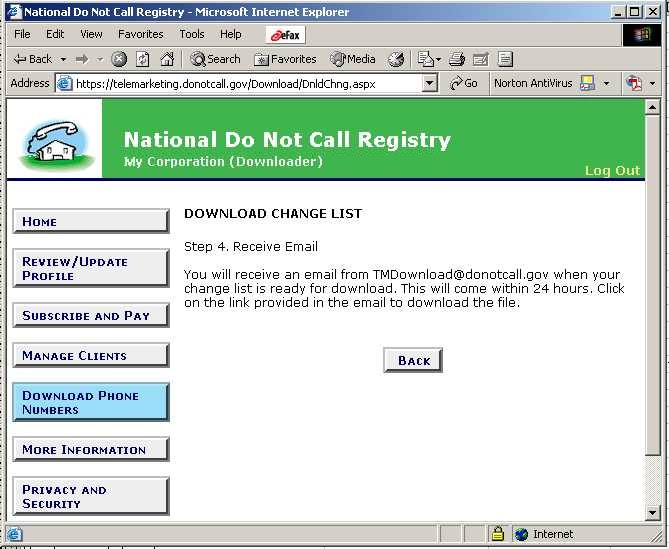 Check your email and click on the link provided. from the FTC's TeleMarketing Download server.
From: <TMDownload@donotcall.gov>
To: You@YourDomain.com
Subject: National Do Not Call Registry - OPEN AND CLICK to download
Date: 1 Jan 2004 11:00:01 -0500
---
You requested a file of telephone numbers that have been added to or deleted from the Registry
since the date of your last download. The file is ready; click on the link below to start the download.

https://telemarketing.donotcall.gov/download/DeltaFileDownload.aspx?
Key=9Towdhn82mDaNb%sdfIasd%asd3d.zip&CompanyID=Odsddffdfa8g%df3fd3d

You will need to log in to start the download. Please use your Organization ID to log in.

Troubleshooting: If the link does not work, use your "cut" and "paste" functions to insert the entire l
ink in the email into the "Address" line on your Web browser. Cut and paste the entire link - it's long.
Do not re-type it.
****************************************************************************
Please do not reply to this message as it is from an unattended mailbox. Any replies to this email will not be responded to or forwarded. This service is used for outgoing emails only and cannot respond to inquiries.


2. Download the file in to your C:\CallNot\Data folder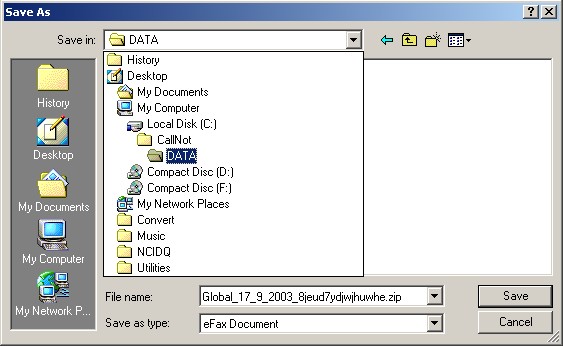 Save it in to the C:\CALLNOT\DATA folder
This is the same folder where the DataDemo.Zip file is.
It will have a name, such as Global_17_9_2003_3LJ629133ZTlyRiK3PtAXg==.Zip
or if it is partial change download
http://download.donotcall.gov/Delta/ewFh82mDB$3A$rNgTiIjQ==.zip
Who knows why the FTC names the files this way. Some sort of code we guess.
Make sure you have at least 1 Gigabyte of free space available on your hard disk, as it is a big file, and getting larger.
The downloading process may take about 5 minutes, depending on the speed of your internet connection.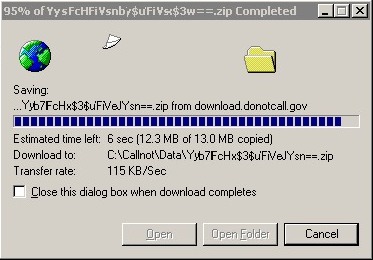 click for full screen view
When it is done, you will see the Download Complete message.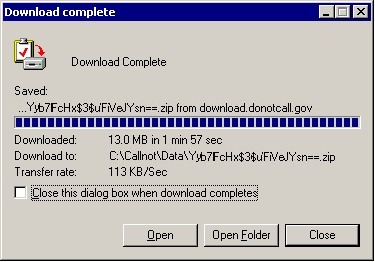 You may now exit your web browser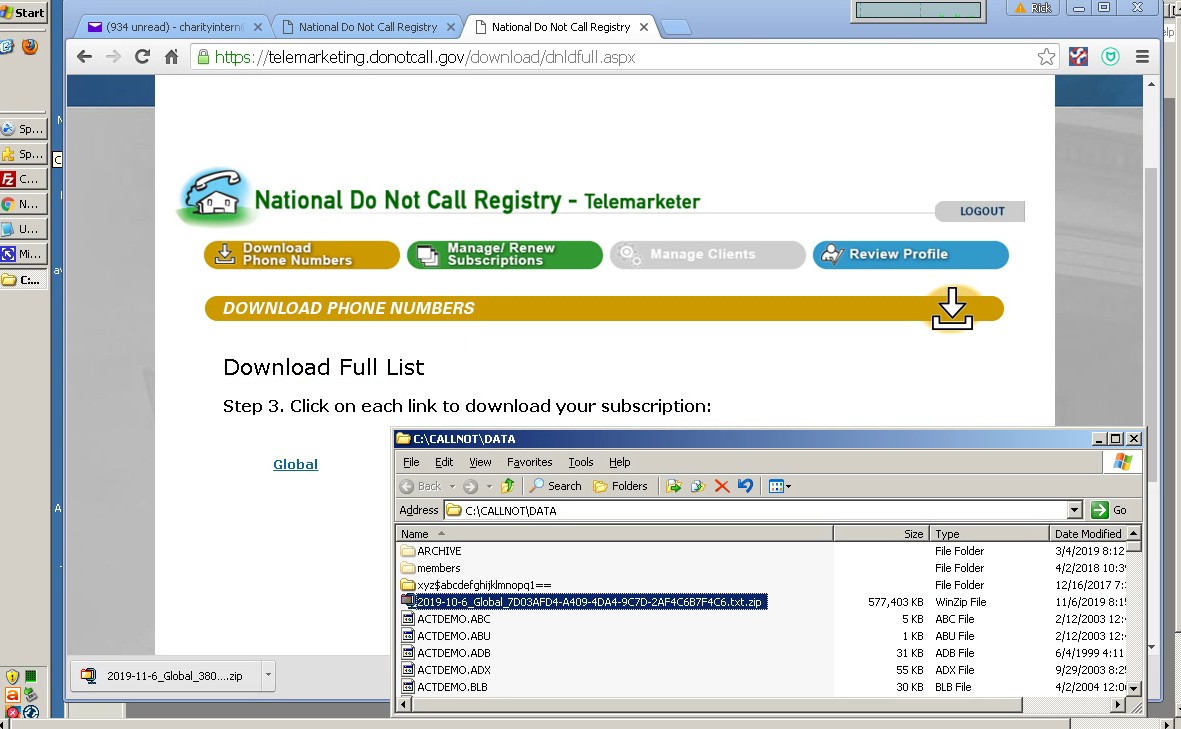 Proceed to Step 3. Load Up the CallNot software with the Latest List
---
Note: The DoNotCall Software includes the compact, powerful UnZip utility by www.Zip-Info.org
This will automatically unzip the files you download from the FTC to extract the actual file of phone numbers.
An example in the Data Demo folder is XyZ$aBcDeFgHiJkLmNoPq1==.zip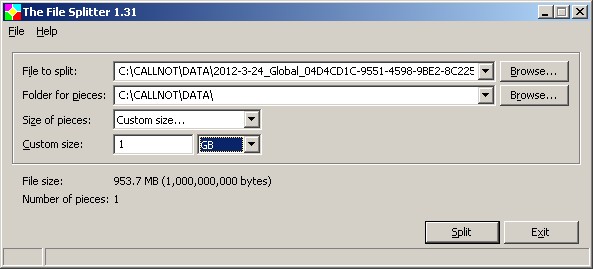 ---
See QuickStart
---