ExcelConvert.com
Converting to and from Microsoft Excel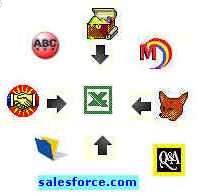 We specialize in getting ALL the details from one database format into another.
So you don't have to re-enter any data.
We have years of experience doing projects with
Microsoft Excel
Converting from:
ACT!
Open the spreadsheet you would like to convert

Scroll down until you see no more data

The Row number shows you how many records.
---
202-829-4444
800-319-3190