EmailDBF


Email Data Extractor

Helps you convert Email files in to a useful Database

Process hundreds of Email files automatically

Puts them in the proper fields

Also you to use the responses from your web based forms
EmailDBF
to the Rescue!
Saving you time and getting all the deails
Problem:
You have a Web page form that people are responding to, and hundreds of names and phone numbers, but they are in individual emails. You do not want to have to Copy and Paste each of the one by one in to a useful database.
Here is an example of what you may have:
What you have - a bunch of email Message files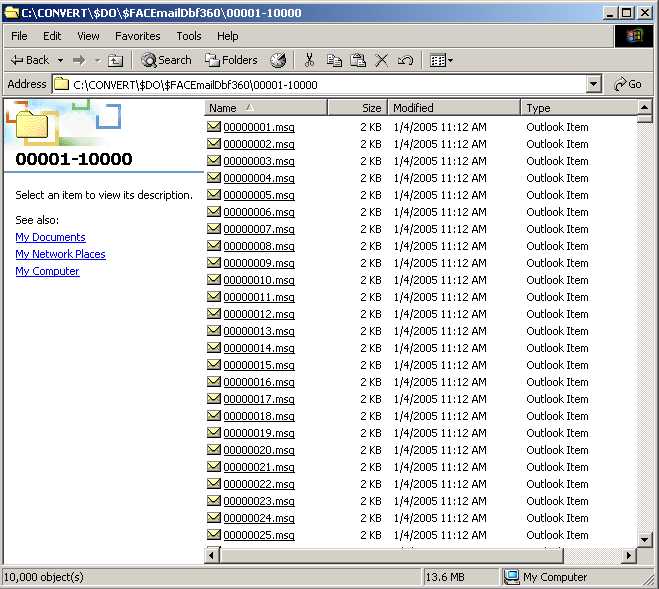 Each .MSG file looks something like this:
From website_FA999@facamerica.com Wed, 4 Feb 2004 21:51:33
From: website_FA999@facamerica.com
Return-Path: <website_FA999@facamerica.com>
Received: from psmtp.com (exprod5mx92.postini.com [12.158.34.80])
by mail.goldengate.net (8.12.9/8.12.8) with SMTP id i152oajR010601
for <req@facamerica.com>; Wed, 4 Feb 2004 20:50:37 -0600 (CST)
Received: from source ([64.49.251.165]) by exprod5mx92.postini.com ([12.158.34.245]) with SMTP;
Wed, 04 Feb 2004 21:50:36 EST
Received: from mail pickup service by server165 with Microsoft SMTPSVC;
Wed, 4 Feb 2004 21:51:33 -0500
Cc: <bob12768@yahoo.com>
X-Priority: 1
X-MSMail-Priority: High
Importance: High
X-MimeOLE: Produced By Microsoft MimeOLE V6.00.2800.1165
X-OriginalArrivalTime: 05 Feb 2004 02:51:33.0881 (UTC) FILETIME=[F708D690:01C3EB92]
X-pstn-levels: (S:99.8000 P:95.9108 M:99.8514 C:78.1961 )
X-pstn-settings: 3 (1.0000:2.0000) p m C
X-pstn-addresses: from <website_FA999@facamerica.com> [db-null]
X-UIDL: _gS"!4M8!!IIN!!k@&#!
To: <req@facamerica.com>
Message-Id: <SERVER165wVn20lbhsK0000032c@server165>
Date: Wed, 4 Feb 2004 21:51:33
Subject: FAC America Internet Catalog Request

realname: robert
Middle_Initial: j
Last_Name: rovan
Address: 141 rosedale st
City: johnstown
State: PA
Zip_Code: 15906
email: bob12768@yahoo.com
Phone:


Thank you for your interest. Your catalog request has been sent. Please
allow 6-8 weeks for delivery.

But this is what you want:

In any of the popular database formats
You want a program that will automatically process these emails and put the information in the correct fields. You want the data in nice neat columns, not in an email format.
Solution:
EmailDBF lets you convert the email contents in to a DBF format. You can get it in any of the major formats, such as the dBase DBF, Microsoft Access, or Excel.
You could do this yourself by hand, but it would take hours to copy and paste one by one. and you might make an error while doing such tedious work.
Your web form will still work normally while the email contents are imported. EmailDBF searches for the key words you specifiy, such as Name: or Phone: and puts them in the proper fields.
It runs quickly and is customizable. This is what it looks like while running.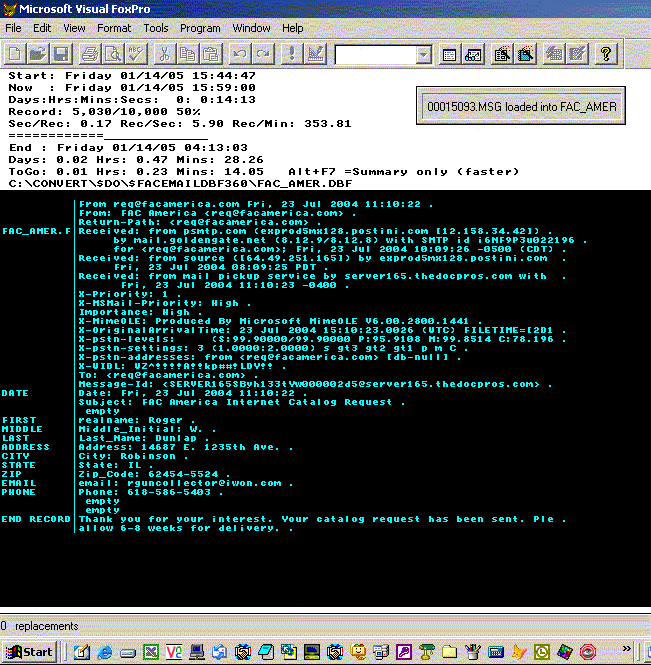 EmailDBF works as a Data Extractor. It looks for the contents of the text after certain key words. It then inserts that data in to the appropriate field. You can have multiple names for a field, and you can populate multiple fields for an entry. This can save you hours of tedious work.
Price: $60


C I Corporation
P.O. Box 100411
Arlington, VA 22202
703-486-2222
877-727-9070 Fax
800-319-3190
Return to C I Corporation Software
Return to
C I Corporation Home page