!bgsound src="/music/military/marines.mid">

United States Marine Corps
Private Frederick "Rick" Shaddock
Honorable Discharge March 24, 1976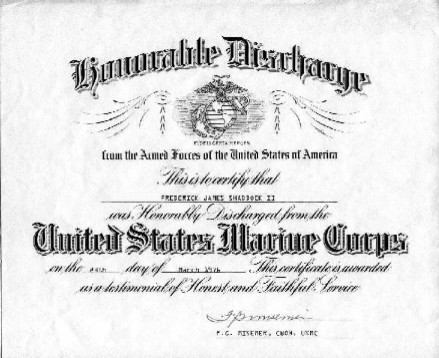 * Note - Social Security Number has been partially blocked out for security
Actual numbers availble upon request only to approved parties
Now proud to serve as a Computer Consulting Contractor to the U.S. Marines,
Army - Air Force - Marines - Navy, General Barry McCaffrey and other clients.
His father, mother and aunt were in the U.S. Navy during World War II
Trainer for HP Palmtop computers used by the 1st Marine Expeditionary Force in Kuwait June 1993 in Operation Desert Storm
Oath of the U.S. Marine

I do solemnly swear that I will support and defend the Constitution of the United States against all enemies, foreign and domestic; that I will bear true faith and allegiance to the same; and that I will obey the orders of the President of the United States and the orders of the officers appointed over me, according to the regulations and the Uniform Code of Military Justice, so help me God.


Marine Corps
Cryptological Association
Join MCCAonline.org
AA (Apititude Area) SC Surveillance and Communications
Training towards MOS (Military Occupation Specification) 2649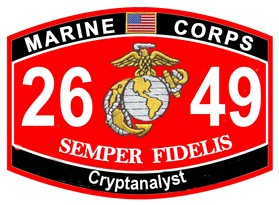 "Adapt and Overcome"
"First to fight for right and freedom, and to keep our honor clean"
Core Values


Insignia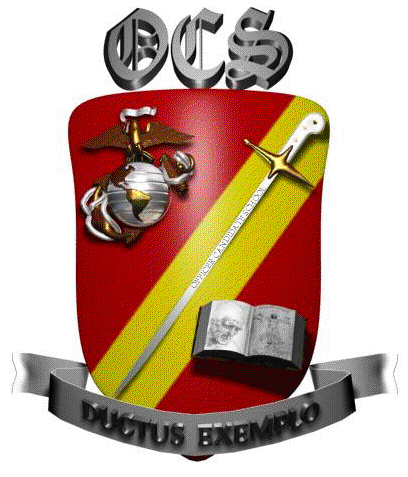 Officer Candidates School
Camp Upshir


Benefits while still in school:
Valuable leadership training

All training is done during the summer. Training does not interfere with your other activities during the school year.

The confidence to succeed and reach even the highest goals

Tax-free financial assistance of up to $7000

Experience in the most committed team environment possible

Earn up to $2985 during training

Discipline to put forth your best effort in everything you do

25 free hours of flight time for those guaranteed a pilot slot (available to women and men)

Pride in yourself for meeting the highest standards
Academic credit for summer training (most colleges)
Benefits after graduation:
A lifelong commitment to excellence

Continued real-life leadership experience

Rewarding job with regular promotions and career broadening opportunities

A sense of pride that comes with belonging to the most elite military organization in the world

Motivation to take the initiative

Starting salary that is competitive with "Corporate America" plus 30 days paid vacation

Life insurance, medical and dental coverage

Guaranteed flight training to those who qualify

Longevity raises and promotion opportunities

Many ways to earn and finance advanced degrees

All travel and required moves paid for by the Marine Corps

Substantial retirement plan
---
From the Halls of Montezuma
To the Shores of Tripoli;
We will fight our country's battles
In the air, on land and sea;
First to fight for right and freedom
And to keep our honor clean;
We are proud to claim the title
of United States Marine.

Our flag's unfurled to every breeze
From dawn to setting sun;
We have fought in ev'ry clime and place
Where we could take a gun;
In the snow of far-off Northern lands
And in sunny tropic scenes;
You will find us always on the job--
The United States Marines.

Here's health to you and to our Corps
Which we are proud to serve
In many a strife we've fought for life
And never lost our nerve;
If the Army and the Navy
Ever look on Heaven's scenes;
They will find the streets are guarded
By United States Marines.

Oath of Office
I do solemnly swear that I will support and defend the Constitution of the United States against all enemies foreign and domestic; that I will bear true faith and alligience to the same; that I take this obligation freely; without any mental reservation or purpose of evasion; that I will well and faithfully discharge the duties of the office on which I am about to enter; so help me God.
Highly motivated, truly dedicated, romping, stomping, blood thirsty, kill crazy, United States Marine Corps recruits, Sir!