ACT! to Outlook
Conversion Service
---
Convert, Update, and Transfer ACT! Contacts into Outlook Contacts
How to Send Your ACT! Files for Conversion to Outlook
We convert your ACT! database into Outlook by specifying the database and executing the transfer. We check the results to make sure everything transferred correctly. We are skilled at using our database tools that allow us to do this quickly. So you do not have to develop your own, or learn how to use it by trial and error. We know what to look for. No more having your Outlook out of sync with your ACT!. Contacts, ToDo, Meetings, and Calls are all converted into Outlook equivalents.
The safest, quickest, and smartest way to keep your ACT! in sync with your Outlook!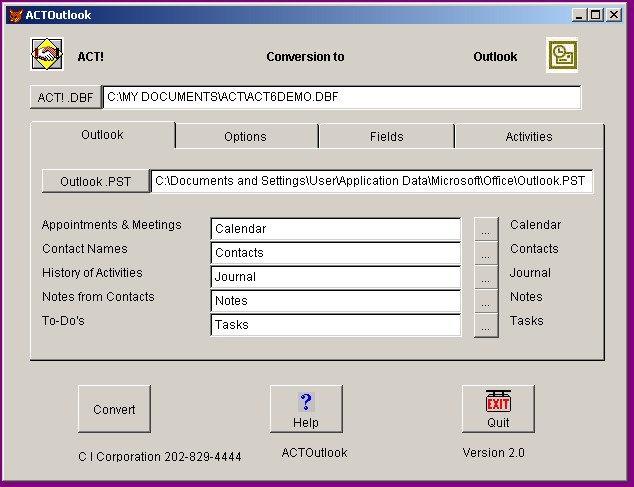 Our conversion:
Converts whole ACT! Contact databases into Outlook Contacts
Maintain Outlook equivalents of your ACT!
Transfer data from ACT! into Outlook
Update, merge, or transfer contacts
Major Features
Duplicate checking stops multiple records from being created
Full transfer of data including Todo's, Calls, and Meetings
Fully integrated with Outlook including customized selection of folders for all activities
Support for Local or Exchange Folders
Outlook Folder Overflow Management
User selectable actions on contact updates and transfers
Easily keep Outlook up-to-date with your ACT!
---
Convert:
Field remapping of ACT! fields into Outlook Fields
Field Discovery of Outlook Fields to be Remapped
Selective Group Conversions
Group-to-Categories Mapping
Intelligent 1-way synchronization with Outlook
Multi-User Support
Major Features
Map ACT! standard and user defined fields into Outlook
Outlook User Property discovery interface makes it easy to select a target sample contact and retrieve the user properties
Enhanced duplicate checking and updating identifies Contacts, Todo's, Meetings, Notes, History, and Calls that need to be updated or added in Outlook
Activities Filter allows you to filter which Activities to transfer keeping the Outlook database clean of redundant data
Convert ACT! Group affiliations into easy-to-search Outlook Categories
Perform selective conversions by individuals or by Group Affiliation
Support for ACT! Multi-User databases
Exchange support — Fully compatible with local and public folder mechanisms
ACT-To-Outlook Conversion Chart
Activities Converted

To do's

YES

Calls

YES

Meetings

YES

History

YES

Notes

YES

Notes-To-Journal
Convert ACT! Notes to Outlook Journal Entries

YES

Activity Filter
To selectively convert activities types from History/Notes

YES

Intelligent Activity Update Selector
To convert only activities that have been updated and to convert the latest update

YES

Attachments
Convert Activity attachments into Outlook Attachments

YES

Field Conversion
Convert all the main fields that have Outlook equivalents

YES

Convert ACT! User defined fileds into Outlook fields, including User 1 through 15 and user created.

YES

Intelligent Outlook Specific Conversion
Convert multi-line addresses and phone numbers into Outlook Specific Entities

YES

Field Remapping
Map one field in ACT! to another in Outlook with no restrictions

YES

Integrated User Field Creation
The capability to create Outlook User Properties from the interface

YES

Contact User Properties Detection
Retrieve user defined Outlook Contact Properties from the interface

YES

Group Management
Convert Groups into Categories

YES

Selectively Convert Groups Only

YES

Outlook Folder Management
Convert Contacts, Tasks, Appointments, Notes, and Journal into Default folders

YES

User-Selected destination folder support

YES

Outlook Overflow Folder Management

YES

Microsoft Exchange Support

YES

Update Management
Enable user to manage contact updates via overwrite, update, and clear mechanisms

YES

Intelligent update management of Activities

YES

ACT! Multi-User Support
Supports Multi-User ACT! Databases

YES
---
Convert your data to Outlook
and keep the look and feel of ACT!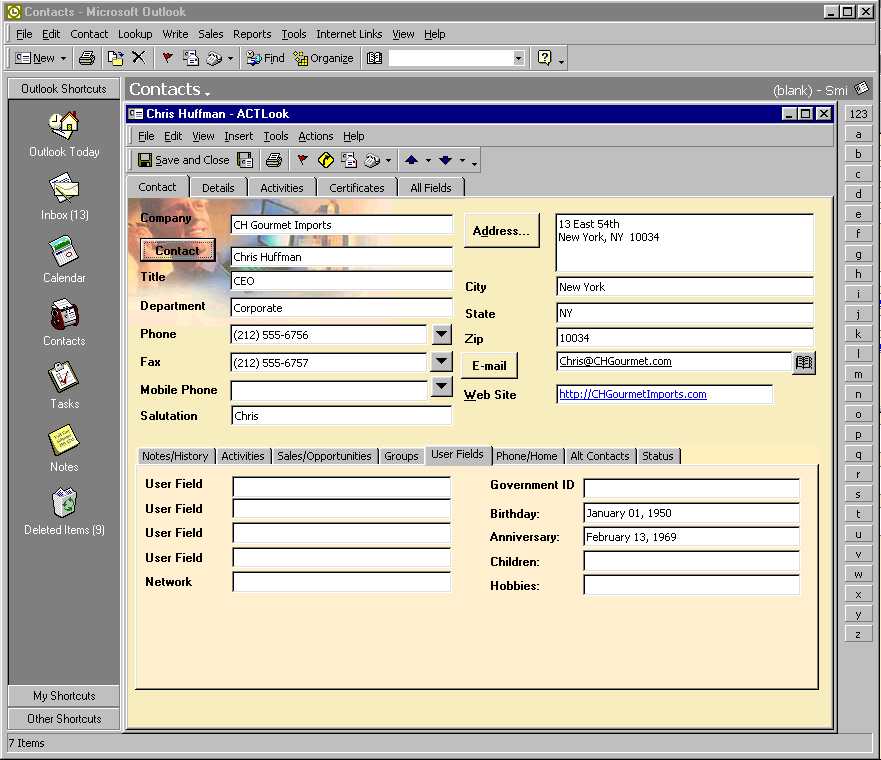 NOTE: The above looks like ACT! but is actually Outlook!
---