We know Hosting and we know ACT!
We can provide hosting for either version of the product
We can host your ACT! Database at OC192 speed
Optical Cable 192 Fiber - the fastest commercially available
ACT! for the Web and Wired Contact look like ACT! for Windows
What are the System Requirements?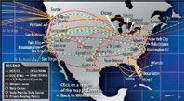 ---
ACTHost.US
ACTHelp.com
202-829-4444
800-319-3190
Hosting@CICorp.com
CosmicInternet.Net
WarpSpeed.WS



Host your Enterprise at our Warp Speed Data Center