Web Based Desktop Support
AeroAdmin.exe




Meet.Google.com
Procor - doc control
MS project, SF, JDEdwards

Remote Meeting Technology
We can log in the help you right now, with any of the following techniques
Remote meeting technology allows us to log in to your computer desktop, to:
help you right now

give a demonstration

provide hands-on instruction, and

make your PC-based software act as Web-based applications
We can use any of the major technologies, including
AeroAdmin, SplashTop, TeamViewer
Virtual Network Computing (VNC) from AT&T Laboratories
Join.me, LogMeIn, GotoMyPC, Webex, NetMeeting, Skype
Windows Live Meeting, Adobe Connect, Electra-Live
PCAnywhere, Timbuktu Carbon Copy and
These are listed, in order by their ease of availability and setup.
| | | |
| --- | --- | --- |
| Situation | Number of People | Suggestions |
| Desktop Support | 1 | AeroAdmin from the customer's side |
| Coaching, Demo, Training | 1 | AeroAdmin from the consultant's side (us) |
| | 2 | |
| Training | 3 or more | AeroAdmin from the student's computer |
---
AeroAdmin - small EXE, no Windows registry settings necessary, inexpensive
C I Corporation Remote Support download AeroAdmin.exe
---
Works as well as TeamViewer for about 1/10th the price, about $60/year.
Also lets you log in to your desktop computer from your mobile phone.
---
Microsoft has a built in Remote Assistance feature for Windows XP and later versions. So let's start with this one.
1. Send an invitation for access to your desktop, to a consultant, then Windows does the rest.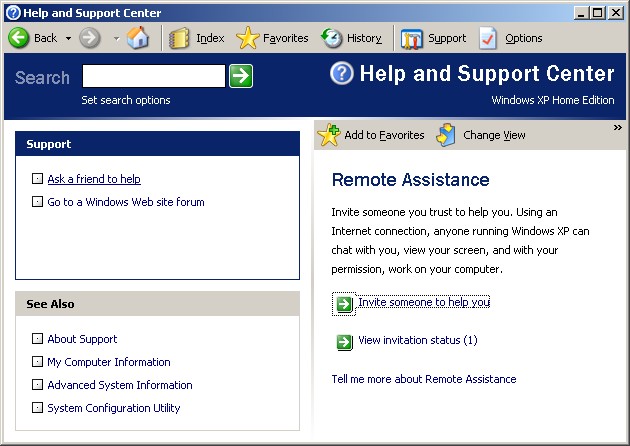 Here are the Steps
---
Excellent FREE Remote Desktop Support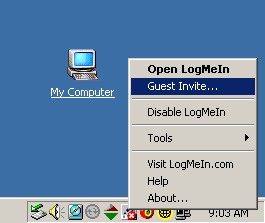 ---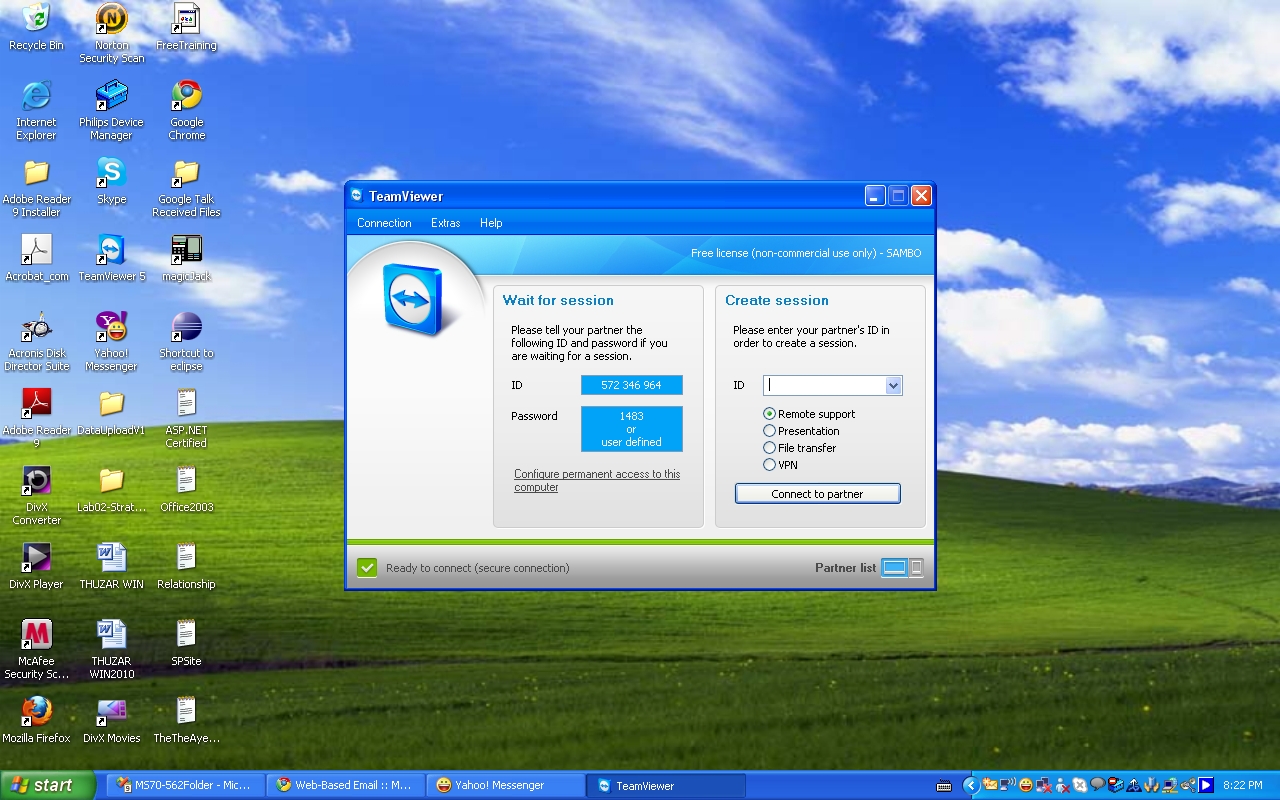 In ID text box you can type the other PC that you would like to connect.
For example, mine is ID = 572 346 964 , password is abc123
There are 4 options in the pictures
if you would like to share your desktop choose Remote Support / presentation
if you would like to copy file choose file transfer.
Then, press the "connect to partner" button.
Your partner will accept your request when you press the button.
That is easy and effective.
Works great for a while for free then requires a subscription for about $600 per year (with no monthly payment option)
---
VNC stands for Virtual Network Computing. It is, in essence, a remote display system which allows you to view a computing 'desktop' environment not only on the machine where it is running, but from anywhere on the Internet and from a wide variety of machine architectures.
It is free! You can download it, use it, and redistribute it under the terms of the GNU Public License. Both binaries and source code are available from the download page, along with a complete copy of this documentation.
To connect, just your browser, such as Internet Explorer and go to the IP address (preferably static), such as: http://123.456.789.10:5800
Then enter the password you have assigned.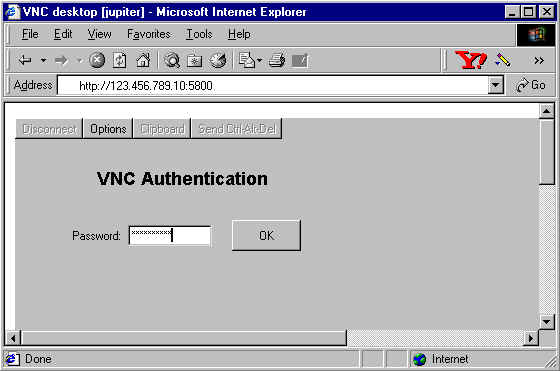 And here's your desktop through a browser!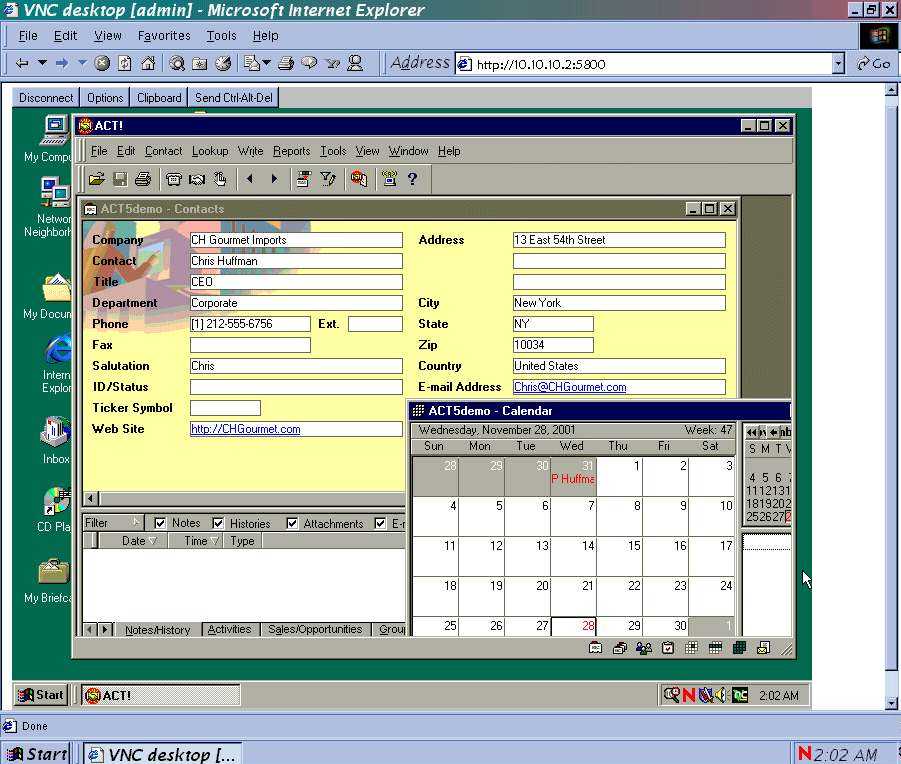 Click to enlarge
If you need to do file transfer, you can do that separately through FTP.
Open an FTP connection to the same address, "123.456.789.10".
Log in with the username and password to gain access to the directory.
---

GoToMyPC.com
GoToMyPC is a popular new technology that lets users access their computer from any Web browser. Easy set up in minutes allows users to work from home or the road and gives them secure and immediate access to their email, files, programs and network resources from anywhere.

GoToMyPC is the CNET Editors' Choice pick for remote access, and they say "you'd be nuts not to sign up for a GoToMyPC account."

Introducing a new technology that PC Magazine calls "revolutionary" and The New York Times calls "ingenious."

You can use all of your normal software and data files, right on your own pc or network, from any browser.
You also do not know the IP or require a static IP as with VNC, as GoToMyPC takes care of matching up the host and client.
---
If you have Microsoft Windows 2000, you can use Remote Desktop Connection

Download the file for the remote machine
---
WebEx uses a standard web browser - which almost everyone has!
This option requires no special software and is the easiest to set up.
Click here for instructions
---

Microsoft Netmeeting is free
and already installed in Windows 2000
The video picture is an option if you have a computer camera, but not necessary.
We will only need to use Netmeeting's Remote Desktop Sharing feature.

Note: this required port 1503 to be open.
Click here for more instructions
---
We can use Symantec's PC Anywhere, if you have it installed.

The advantage of PCAnywhere is that it can be set in automatic stand by mode.
This is the better option for longer term projects and remote sessions.
Firewalls require special setup with your System Administrator.
Click here if you would like to purchase PC Anywhere
---

Timbuktu is like PCAnywhere, yet also has a Macintosh version and is mulitplatform
---

PlaceWare is a leading provider of Web conferencing services that enable businesses to conduct
real-time, interactive conferences and meetings over the Internet.

PlaceWare got its start in 1990 at Xerox Palo Alto Research Center (PARC). Initially it was a
ground-breaking multi-user game known as LambdaMoo. Ironically, this success led to the
technology becoming the foundation for a collaborative computing system for the U.S.
Department of Defense.
Realizing the potential of this new multi-user real-time collaboration medium in business applications,
PlaceWare was formed in 1996.
Today, PlaceWare's hosted services and high-touch event services allow business professionals to
meet, share and exchange information with anyone around the world. PlaceWare's flagship service
Conference Center, provides reliable and scalable services for collaborative meetings and online events
with up to 2,500 participants, at once.
---
With traditional applications you still need locally installed software to control a remote computer. Using Carbon Copy Solution, you can connect and control an installed Windows client from any location and any computer with Microsoft Internet Explorer. Simply click on the Carbon Copy URL and the remote access console is immediately downloaded and ready to run. The console is only cached – so files aren't permanently left behind. However this requires special software to reside on the host machine.

---
Other remote access software we can help you with
Computer Associates'
Control IT

---
We also are set up for "face to face" meetings via Videophone
VideophonesForSale.com

---
Either way we can be of assistance right now.
Consulting Rates - Discount rate for using Webex
We pass the savings on travel costs on to you.