ACTdDupe!

A variation of the famous Super dDuper, customized for ACT! . Helps you remove those nasty duplicates from your ACT! Contact management files database files.

Customizable and lets you

Specify which fields constitutes a duplicate - usually Company name, Last name, and First name of contact.

Works with all versions of ACT!, automatically detecting which type it is.

How to handle the duplicates - delete them? Or just mark them.

Picks the record with the earliest Create Date as the Primary Record

Merges Activities, History, and Notes into the Primary Record

Merges each field into the Primary Record, so you don't lose anything!
If there is a blank field in the Primary Record, but it is filled in a duplicate, it fills in the field for the Primary Record. If a different value is already there, it adds a comma, then the remaining contents.

Print reports of duplicate records for your analysis.
ACTdDupe! to the Rescue!
The ACT! De-Duplicator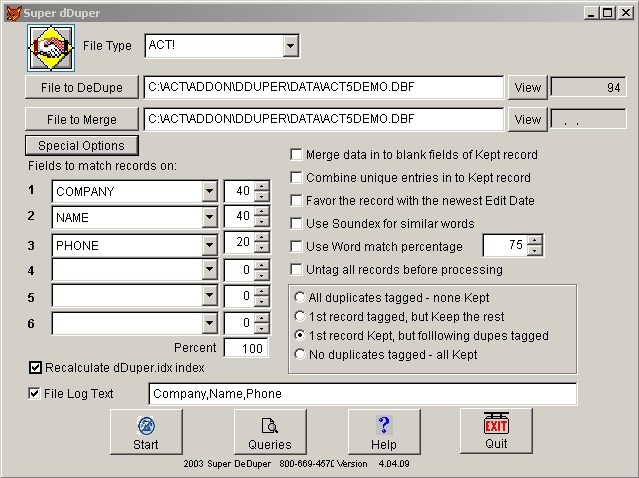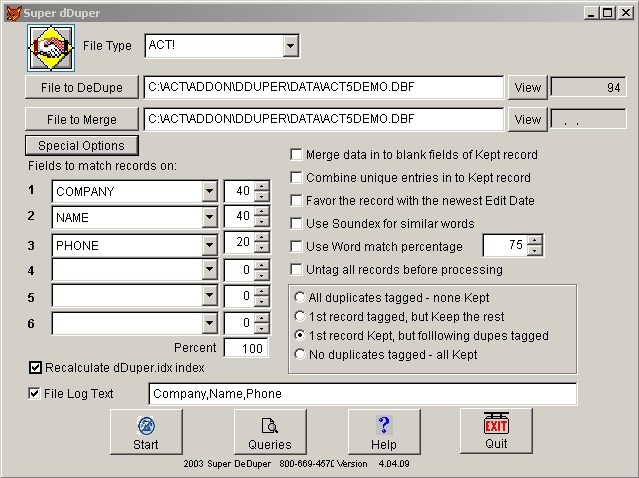 This program will remove duplicate records from your ACT! database based on the contents of up to 5 different Character fields.
ACTdDupe compares the Soundex (sounds alike) value of character fields.
It handles the ACT! Merge Options better than ACT!

Comparison
| | |
| --- | --- |
| ACT! | ACTdDupe! |
| Data Exchange - Import/Export: If one database has the up to date Fax, the other file has the most recent Street address, you will end up losing one or the other. Whichever has the most recent Edit Date will be kept. | If one database has the up to date Fax, the other file has the most recent Street address, you will end up with both items of information! |
| Runs slowly | Runs fast |
| Gives no log of what the program did to your database | Provides a complete history of what has changed, so you can check the progress |
| Prompts you often for merging, requiring you to sit at your computer pressing "Merge" again and again | Intelligently makes the Merge decisions, allowing you to start the process and go on to your other work |

C I Corporation
510 N Street, SW
Washington, DC 20024
202-829-4444 202-449-9500 Fax
800-319-3190 877-727-9070 Fax
Return to C I Corporation Software
Return to
C I Corporation Home page
ACT! is a trademark of Best Software