ConvertFoxPro.com
Converting to and from Microsoft FoxPro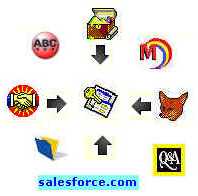 We specialize in getting ALL the details from one database format into another.
So you don't have to re-enter any data.
We have many years of experience, since 1989 doing projects with
Microsoft FoxPro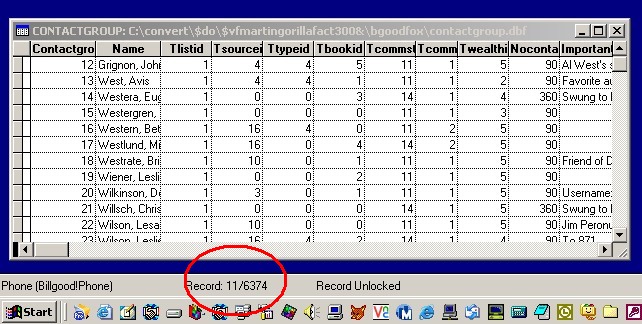 See the bottom of the screen on the Status Bar
If all things remained constant—hardware never changed, software never changed, new operating systems were not developed, and so on—it's possible that your present application in FoxPro could continue to function for many years to come. Unfortunately that's not the case. As hardware and operating system software continue to advance, the 32-bit architecture of FoxPro is not guaranteed to work with emerging systems.
What this means is thatk over time, companies using FoxPro applications will find changes to their system to be more difficult and potentially more costly as the skilled resources to do so becomes drastically diminished.

In addition to the technical aspects of the software and hardware, there is the human element. Since Microsoft has now retired Visual FoxPro, there are fewer remaining skilled professionals who really understand and are proficient with this development tool. As time moves on it is safe to expect that this trend will continue.

While the conversion of your FoxPro application may not be an immediately pressing problem, it is still prudent to plan ahead. Making plans sooner means having adequate time for redevelopment, testing and deployment for your new solution
4 Steps in a Typical Conversion Project:
Discovery

During this phase our conversion experts will work with your staff to document the specifics of your existing application.

Data Definition – A data dictionary will be created which documents all the tables as well as every column of data within each table and its data type. We then map how these data tables are used and how they relate to each other.
Application Matrix – We take an inventory of the number of data entry forms, reports and associated programs to build a scope for the conversion.
Business Rules – we examines the business rules associated with your application and thoroughly documents them.
Planning

During this step our team prepares a detailed plan of how the actual conversion will take place and works with your staff to define any new functionality desired as a result of the final converted system.

Browser-Based vs. Desktop Application – With FoxPro you were limited to just desktop applications. With .NET is now possible to move your application to a browser interface making it possible to operate it on the internet. We will weigh the pros and cons of the platform change with you so that you can make an informed decision.
Development Phases – With larger applications it is beneficial to break the development process into deliverable phases. This means breaking your application into logical segments that can be deployed in stages.
New Features – The primary objective is to convert your application to reproduce all existing functionality. As a secondary portion of the conversion process, we can add new functionality to the new application.
Data Upsizing

Upsizing is the process of moving your FoxPro data from individual data files to a database server.

Upsize – If your application already has a Microsoft SQL Server database on the back-end then this step can be skipped. Otherwise, we will use the Microsoft Upsizing Wizard to convert all of your FoxPro data to SQL Server.
Normalization – Normalizing is a process where data is laid out in a logical fashion which optimizes the relationships between tables and limits the duplication of fields of information. Generally is a functioning FoxPro application most of this work is already done. The key for us during this step is to make sure that every table has a primary key which uniquely identifies each record in that table. This is a practice that was not necessary in FoxPro.
Modify Existing Application To Use SQL Server – For larger applications it is good practice to modify the existing FoxPro program to work with SQL Server. This provides us a way to test the new SQL database, verifying proper normalization with the already existing application. This will also make it possible for us to phase development, deploying the newly designed application in stages.
Phased Development

Independently deployable phases provide a smoother transition from your old FoxPro application.

Of course, for smaller applications it might make sense to simply have one phase. This is something that we will work with your staff to determine during our planning.

Develop – Each phase will be broken into 3 sub-phases. The first is the development sub-phase where the initial product development will take place.
Test – The testing sub-phase consists of both testing and corrective action. Once tested thoroughly and then re-tested to verify each corrective action is effective, a determination for deployment readiness is made.
Deploy – This sub-phase would be tailored to your specific needs. Along with the technical aspects of the deployment we may also need to provide end-user training and documentation.
---
Whether your current application was developed in the 16-bit FoxPro for Windows or in the 32-bit Visual FoxPro, we can handle the conversion of your product to Microsoft .NET technology smoothly and seamlessly. Our seasoned staff has worked on a wide variety of projects spanning multiple industries.
202-829-4444
800-319-3190