Click here to go to WebEx
Webex allows us to log in to your computer desktop, to:
help you right now

give a demonstration

or provide hands-on instruction
nov
It uses the latest remote meeting technology - just using your web browser!
Click here for instructions
---
We also can help log in to help you via Symantec's PC Anywhere, if you have that software

---
Or, if you have the software installed, with Microsoft Netmeeting


Netmeeting is free, and is already installed with Window 2000. The video picture is an option if you have a computer camera, but not necessary, as we will only need to use Netmeeting's Desktop Sharing feature.
Either way we can be of assistance right now.
---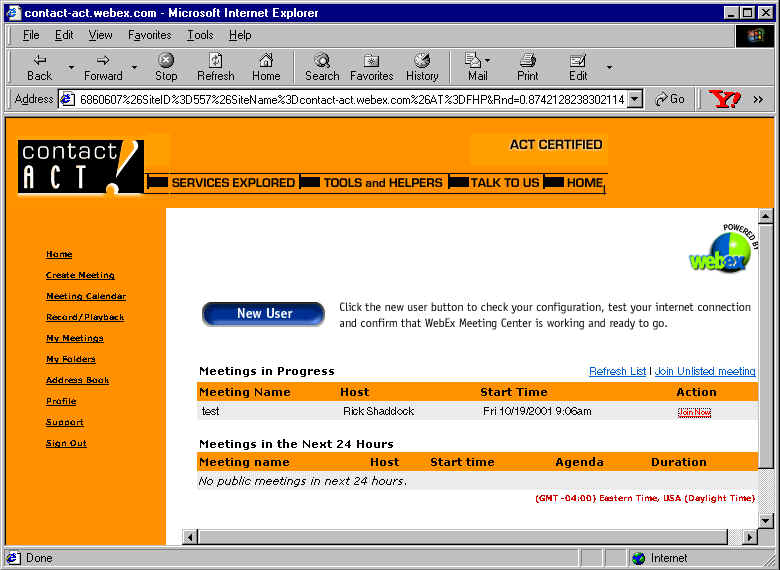 Click on the Action "Join Now"

Enter the Password given to you:


You will then briefly see the following screen in a window which can be minimized, for the duration of the meeting.

Meeting in progress
Do not close or refresh this page, or click Back or Forward.
Doing so will cause you to leave the meeting.

Then you will see the meeting screen. Your name will appear as one of the Attendees

To initiate sharing, select File, Desktop...


You will then see the following dialog. Click on OK


You will then see the following green screen


Look for the Sharing drop down menu in the upper right.
Select "Accept Sharing Automatically" to allow the consultant to work.
This puts a check mark next to "Accept Control Request Automatically".



Now your desktop is avaible for the consultant to work.
At any time, you can terminate the connection with the same "Sharing" menu
by selecting "Quit Desktop Sharing"
Thank you for using WebEx
---
Consulting Rates - Discount rate for using Webex
We pass the savings on travel costs on to you.