How to find your SHARK.DB file
It's out there somewhere, in the deep blue sea of your hard disk - but where?
1. In Windows, select the Start button in the lower left corner of your screen.
2. Select Search for Files and Folders
3. Enter "Shark.DB" then Start Search
4. When the results appear, look for the file that has the most recent date, and a size larger than 2000 KB
In the example below, the SHARK.DB on 4/7/2005 7:53 PM with 19,420 KB is the correct file.
Note that it has the most recent Modified date, and has the largest Size.
It can be found in the Folder called C:\Shark4\DATA
The other files are either backups, older versions, or demo files. You can ignore them.
Use the most recent database to upload for conversion
Go to https://WeTransfer.com
Select the file such as "MyDatabase.zip"
Send to Convert@CICorp.com
Enter your email address at your company
Message is optional, such as a password if necessary
click Transfer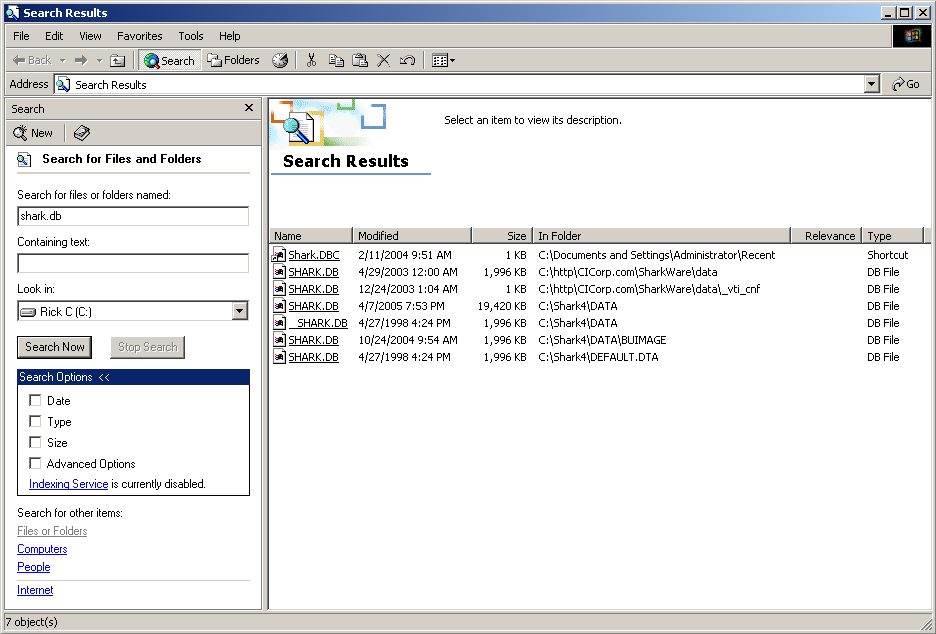 ---