The Lone Oak Center Training Classroom
The CPCUG classroom at the Lone Oak Center (LOC), 1010 Grandin Avenue, Rockville, MD. has 12 modern Pentium computers on an Windows NT network, overhead projector attached to an instructor PC, and additional equipment to aid the training process. Most of the classes are "hands-on" classes with each student having their own PC to follow along with the instruction.
Here is a simple map you can print off as a reference. Note that the Rockville Metro Stop is at the corner of Hungerford Drive (MD route 355) and Jefferson Drive (MD Route 28). It is a short walk to the Lone Oak Center. The YAHOO! Map service lets you change the scale and request personalized driving directions. (If you get driving directions, remember to review them carefully to verify that they "make sense"! Computer-generated directions sometimes go astray.)
Directions to the Lone Oak Center from the Washington Beltway
Turn onto I-270

If coming from the south, use exit 38 to get on the I-270 spur
If coming from the east, use exit 35 to get on I-270

After I-270 spur and I-270 join, stay in the right-most lanes and take the next exit - exit 4A (Montrose Rd east and Tower Oaks Blvd.)
Once in the exit lanes, stay to the left, taking the left fork, going under Montrose to a stop sign at Tower Oaks Blvd.
Turn left on Tower Oaks Blvd and go 0.8 miles to traffic light at Wooten Parkway.
Turn right on Wooten parkway, going 1.4 miles to Rockville Pike.
Continue straight across Rockville pike and then, a block farther, across Veirs Mill Road.
Turn right at the next corner onto Grandin Ave.
Turn left at the next corner onto Woodburn Rd. and then right into the Lone Oak Center's parking lot. Please note the restrictions on street parking.

Classroom entrance
The classroom is entered on the Grandin Ave. side of the building through the door closest to Woodburn Rd. Look for the CPCUG banner in the window. If you enter at another entrance, look for direction signs to the CPCUG Training Room.
Pictures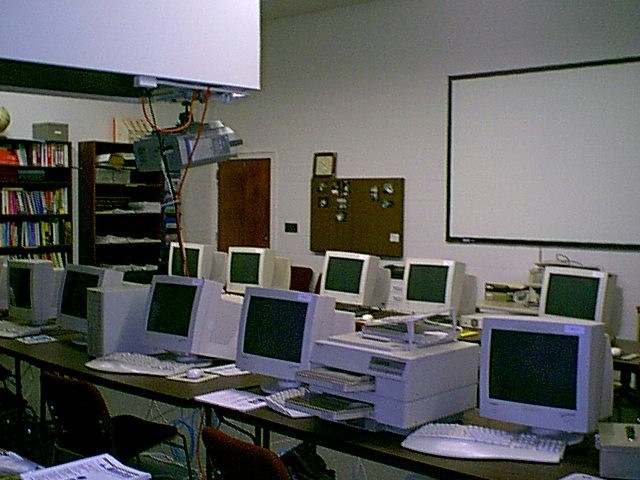 12 modern Pentium computers on an Windows NT network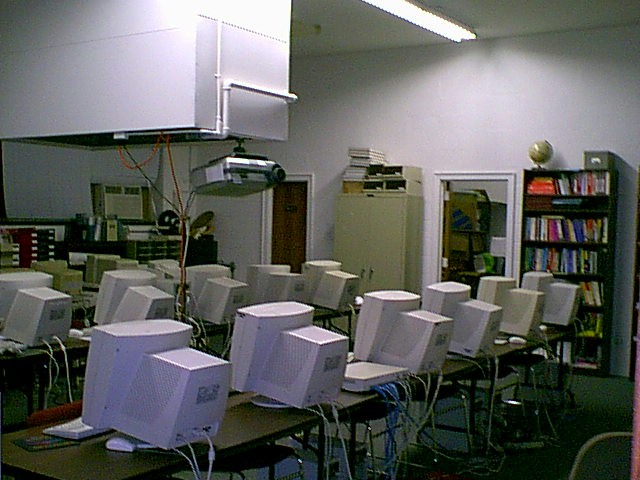 Overhead projector attached to an instructor PC