How to send your ACT! files
for conversion into GoldMine
There are 3 basic steps:

1. COMPRESSING THE ACT! FILES
Compress the files for faster upload, using WinZip.
OR you can use PKZip.exe along with the GoldZip.Bat batch program in the Goldmine folder to compress the files you need automatically.
2. EMAIL YOUR GOLDMINE.ZIP FILE TO Convert@Cicorp.com
OR UPLOAD IT TO OUR SECURE SERVER
Send to a secure drive only we both can access
3. DOWNLOAD the FINISHED GOLDMINE FILE
When done, you can download the converted GOLDMINE file
---
Before compressing the ACT! database, there are a few considerations.
Goldmine can create sub contacts for companies with several employees.
But ACT! can only have one contact per record.
Please specify if you would like us to keep them as one contact per record, or if you would like us to combine them by company or organization.
Some features of Goldmine have no direct equivalent in ACT! So you can look forward to having additional features available such as:
Literature Fulfillment Center
Organizational Tree
Reference links to other contacts in same database
Filters (We can use stored GoldMine Queries and Groups instead)
Automatic linking and organization of incoming email by Contact
Project Management feature
Synchronization of word processing and email templates
Information Center
Keystroke and Mouse Click counts by user
---
1. COMPRESSING THE ACT! FILES
See steps to compress the ACT! Database
---
2. EMAIL YOUR GOLDMINE.ZIP FILE TO Convert@Cicorp.com
or UPLOAD IT TO OUR SECURE SERVER
First we can simply try email to: Convert@Cicorp.com
Just send the Zip file as an attachment using your email program.
Large files (10 MB+) often do not transmit properly, if at all, through email.
Some organizations have a limit on the size of attachments you can email.
We suggest using our web based drive, which offers you up to 100 Megabytes of online storage space.
If your file is larger than that, give us a call at 800-319-3190, so we can send you the FTP settings to upload it directly using an FTP program such as CuteFTP.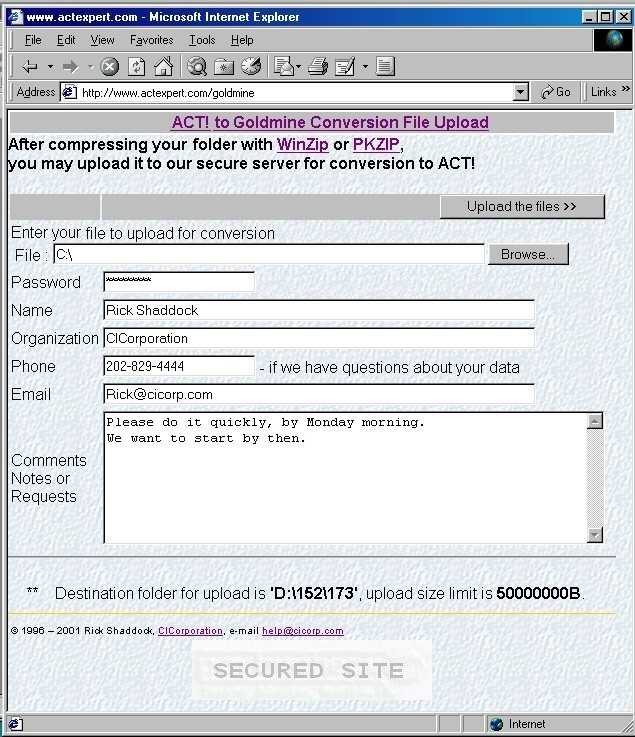 <!width500>
Enter your name, company, phone, and email, so we can contact you if there are any questions during the conversion. This will be the phone and email we will use to tell you when your data is ready.
For your protection, enter a password of your choice. We will use this to encrypt the ZIP file. This is for your security. We want zero chance that your data will accessed by anyone other than you.

---
3. DOWNLOAD THE FINISHED GOLDMINE FILE
When we are finished with the conversion, we will notify you of the location of your file. You can download it with any browser. For security reasons, it will be known only to you. The file will come as a Self-Extracting file, for your convenience. Then you can Download it and double click uncompress it into the GoldMine Database folder.
Files needed from the folders:
Goldmine
GMBASE
Your data
LICENSE.DBF
USERS.DBF
USERS.DBT
USERS.MDX
DATADICT.DBF
DATADICT.MDX
FLAGS.DBF
CAL.DBF
CAL.DBT
CAL.MDX
FIELDS5.MDX
FIELDS5.DBT
FIELDS5.DBF
FILTERS.DBF
FILTERS.DBT
FILTERS.MDX
FORMS.DBF
FORMS.MDX
FORMS.DBT
FORMSFLD.DBF
FORMSFLD.DBT
FORMSFLD.MDX
FORMSQUE.MDX
FORMSQUE.DBF
GMTLOG.DBF
GMTLOG.MDX
GSLOGS.MDX
GSLOGS.DBT
GSLOGS.DBF
GSSERVER.DBF
GSSERVER.DBT
GSSERVER.MDX
GSSITES.MDX
GSSITES.DBF
GSSITES.DBT
IMPEXP.DBF
IMPEXP.DBT
IMPEXP.MDX
INFOMINE.DBF
INFOMINE.DBT
INFOMINE.MDX
LEADDBFS.DBF
LEADDBFS.MDX


LOOKUP.DBF
LOOKUP.MDX
MAILBOX.DBF
MAILBOX.DBT
MAILBOX.MDX
OPMGR.DBF
OPMGR.DBT
OPMGR.MDX
OPMGRFLD.MDX
OPMGRFLD.DBT
OPMGRFLD.DBF
PERPHONE.DBF
PERPHONE.MDX
REPORT32.DBF
REPORT32.DBT
REPORT32.MDX
REPORTS.DBF
REPORTS.DBT
REPORTS.MDX
RESITEMS.MDX
RESITEMS.DBT
RESITEMS.DBF
SCRIPTSW.DBF
SCRIPTSW.DBT
SCRIPTSW.MDX
SPFILES.DBF
SPFILES.MDX
SYSLOG.MDX
SYSLOG.DBT
SYSLOG.DBF
TRACKS.DBF
TRACKS.DBT
TRACKS.MDX
USERLOG.MDX
USERLOG.DBF
Contact1.DBF
Contact1.MDX
Contact1.DBT
Contact2.DBF
Contact2.MDX
ContGrps.DBF
ContGrps.MDX
ContHist.DBF
ContHist.DBT
ContHist.MDX
ContSupp.DBF
ContSupp.DBT
ContSupp.MDX
ContTLog.DBF
ContTLog.MDX
ContUDef.DBF
ContUDef.MDX
We don NOT need the Goldmine software files, such as GMW5.EXE, or any DLLs.
The GoldZip.Bat file, placed in the Goldmine EXE folder, will get the proper files automatically.
---
Please feel free to call any time with questions.

Rick Shaddock
CICorporation.US
800-319-3190
202-829-4444
---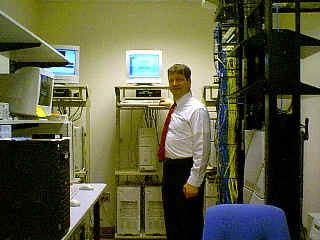 Data Commander Rick runs a conversion enterprise, transporting your data at warp speed.