Filtering by IP Addresses
The variations on Subject words and From addresses may be too much to enter.
Often, many different Subjects and From actually come from the same email server.
You can filter out the email by the IP address of the server that is being used to send out spam.
To find the IP, select Preferences, and Select the Display Message Headers option
Web Messaging v7.07

Mail Sending Options
Forward Editing:
Edit original message
Don't edit original message
Forward Attachments:
Include attachments
Don't include attachments
Replying:
Include original message
Don't include original message
Reply message (original message indicator):
">" None
Save copy of outgoing mail in Sent folder:
No Yes
Include Signature:
No Yes
Confirm sent messages:
No Yes
Use Java:
1.1 1.2 for Spell check Applet
Open IMail Web Calendaring in:
New Current window

---

Message Display Options
Number of messages per page:
10 20 50 100
Initial sort criteria:
From
Subject
Date
Size
Sort Messages:
Ascending Descending
Display Message Headers:
Basic Full
Text attachments:
Show as links
Show with message text
Menu buttons in read message screen:
Top
Bottom
Both

Show new messages for:
Main mailbox only
All mailboxes

MessagePreview:
Enable Preview, Preview Size: (Max. 128 Characters)

---

Delete Options
Delete messages:
Move to delete folder
Purge message
Confirm delete messages:
Then go to your Main mailbox and look for the IP in the Header
Received: from

206.114.144.15

[200.55.43.176] by 9901.server9901.net
(SMTPD32-7.07) id A43839102A6; Wed, 04 Feb 2004 15:21:12 -0500
Received: from 48.16.216.160 by 206.114.144.15; Wed, 04 Feb 2004 05:20:19 -0300
Message-ID: <CPQGCMOLIKQETZCPQJPZK@yahoo.co.nz>
From: "Denisha Randall" <josie@inreach.com>
Reply-To: "Lyle Govan" <josie@inreach.com>
To: <internet@cicorp.com>
Subject: FWD: Everything 4 U V|@gra ; xana|x| $ Va/l/ium # At|:v@n _ S0ma - Pn+ermin KzYuc
Date: Wed, 04 Feb 2004 10:17:19 +0200
MIME-Version: 1.0
Content-Type: multipart/mixed;
boundary="--854541036877267821"
X-Mailer: SquirrelMail (version 1.2.6)
X-Priority: 3
X-CS-IP: 44.165.2.74
X-RCPT-TO: <internet@cicorp.com>
Status: R
X-UIDL: 347492989
---
We supply high quality medications by mail order at very competitive prices and provide a professional, convenient and affordable means of purchasing your prescription medicines online
We have: - v1agr@ ; Pnter/m/in % /V/alium \ XAN/a/x \ |S|oma ? At|.v@n
Plus: Acyc.|0vir, Pr0`z@c, P@x.il, Bus'p@r, A.d|p&x, I0nam`|n, M:3ridia, X3ni:ca|, A:mbi3n, S0n`aTa, Fl3xeri'l, C.e|3brex, Fi0r`ic3t, Tram@.do|, U, L3v|tr.a, P.r0p3cia
Then go to Processing Rules and add that IP to the list. Where the Header contains the IP, send it to the Delete (NUL) box for immediate deletion. Or, you could send it to your Zap_Spam box to check it out first, before deletion.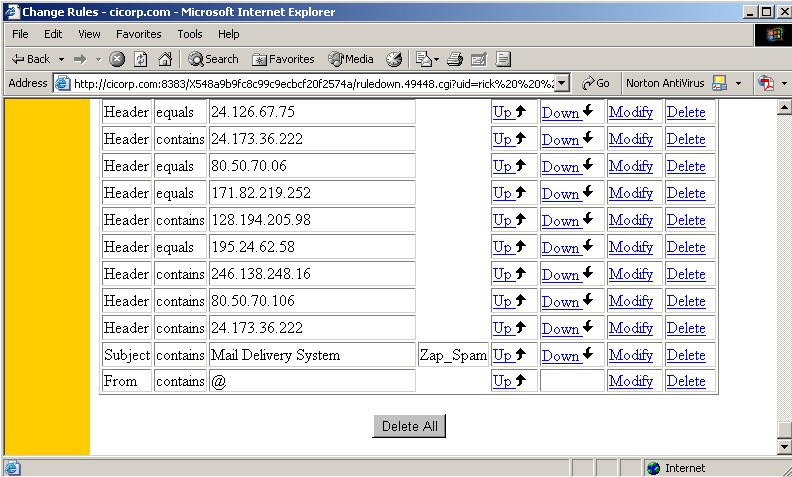 ---