---
STEP-BY-STEP INSTRUCTIONS TO INCORPORATION

1. CHOOSE THE TYPE OF BUSINESS STRUCTURE-----------------------------
The most common types of corporate entities are discussed in the Types of Corporations section. If you require more information than is provided here, we welcome your phone call or e-mail. One of our Corporate Specialists will be happy to discuss the particulars of any type of business structure with you.

2. CHOOSE A STATE OF INCORPORATION---------------------------------------
Corporate Extensions can incorporate your company in any state, regardless of where you plan to conduct business. Some states have particularly attractive laws for corporations and our Corporate Specialists can provide you with information on the advantages of incorporating in certain states. Below is a price list for the cost of incorporation or forming an LLC in each state (state fees are subject to change without notification):

3. CHOOSE A CORPORATE NAME---------------------------------------------------
This is a more important step than some realize and there are requirements. One of these is that your company name cannot imply any illegal activity (eg. Shoplifters, Inc.). Your company name must include one of the following words or an abbreviation thereof: Incorporated, Corporation, Company, Limited or Association. Also, your name must not be the same (or so similar so as to cause confusion) as any existing business in the same state. Because so many new businesses are formed every day, it is important that you reserve your name as soon as possible. Corporate Extensions can check on the availability of your name and, if available, reserve it in the state of your choice for up to 60 days while you are in the process of incorporation.

4. CHOOSE A REGISTERED AGENT-------------------------------------------------
As every state requires corporations and LLCs to have a Registered Agent to receive notices for the corporation, this is an important early consideration. The Registered Agent must have a street address in the state of incorporation, so it may be very cost-efficient for you to serve as your own Registered Agent if you are incorporating in the state in which you live or have an office. If you choose not to do this, Corporate Extensions and our network of affiliated agents will be able to serve as your Registered Agent in any state.

5. FILL OUT THE COMPANY INFORMATION FORM-----------------------------
Click here to go to Corporate Extensions' Company Information Form, which you can complete on-line to get your incorporation prepared and filed as quickly as possible. If you do not wish to incorporate in this manner, you can call Corporate Extensions at (800) 474-6340 with your credit card number. Our Corporate Specialists can incorporate your business over the phone or you can order our free brochure with an Information form enclosed. As soon as you return the form and payment by fax or mail, Corporate Extensions will prepare and file your Articles of Incorporation immediately. For a small increase in state filing fees, most states will file your Articles in 24 hours, though some states can take up to two weeks to return to you a confirmation of your incorporation. Corporate Extensions will follow up on your filing and forward to you a certified copy of your filed Articles along with your Corporate kit.

6. ORDER YOUR COMPLETE CORPORATE OR LLC KIT-----------------------
Proper record keeping is important for the protection of your assets. If any legal action is ever brought against your business, you will need to prove that you are conducting business as a corporation. Your corporate records may be the only way you can do this. We will provide you with a personalized volume of your corporate or LLC documents, which includes:
Pre-printed minutes
Pre-printed bylaws
Personalized stock certificates (or member certificates for an LLC)
A stock transfer ledger
A customized onyx and chrome corporate or LLC seal
You can order your customized kit at the bottom of your Company Information Form, or, if you have any questions, you can call us and order by fax, by mail or over the phone.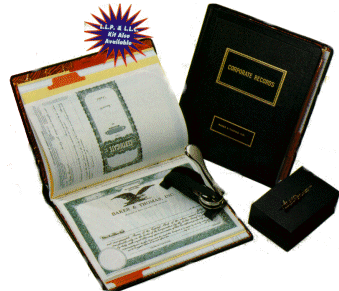 7. HOLD THE APPROPRIATE MEETINGS-------------------------------------------
After your Articles of Incorporation have been filed by Corporate Extensions, your company should hold the first Board of Directors meeting during which the directors and officers are appointed or elected, bylaws are adopted, and other corporate business is addressed. For further information regarding these proceedings, go back to our questions page or call us at (800) 474-6340 to speak to one of our Corporate Specialists.


After you have completed these steps, your corporation or LLC is ready to conduct business. At Corporate Extensions, we know that young businesses face many obstacles that can seem very daunting at first, but which can be overcome with a helping hand. For this reason, your association with Corporate Extensions will not end with the completion of your filing. We offer a number of ongoing services, many of which are provided at no cost to you or your business and all of which will help you guarantee a long life for your corporation or LLC. Go on to the Other Services page to see the many continuing services that Corporate Extensions can extend to you.


---
Home | Benefits | Types | FAQ | Step-By-Step | Incorporate Online | Other Services
---
This Site Best Viewed With:


Microsoft Internet Explorer

© 1996 Corporate Inc. All Rights Reserved.