Under Construction
ACTConvert.com
Converting from FileMaker to ACT!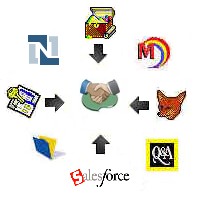 We specialize in getting ALL the details from one database format into another.
So you don't have to re-enter any data.
We have years of experience doing projects with FileMaker and ACT!
If you want to convert from ACT! to FileMaker, please see
FileMakerConvert.com
Converting from and to
---
References:
Fred Gratzon, President and CEO, Telegroup.com
Nancy Darr, Washington Design Group
Christine Roberts, Blue Chair Design
Einar Olsen, Natural Health Technologies
Joe Chromy, Momentum Business Strategies
for Schwartz Communications
---
We can Improve your Data as it is Converted
As part of our conversion process, we can also "clean up" your data.
People do not always enter the data as they "should." We have seen just about everything over the years!
Phone fields with email addresses in them - we separate them out in to the appropriate fields
Users with multiple User IDs - we developed a procedure to combine them in to a single ID
Year 2000 problems - We can fix dates from the year 1899 to 1999
Fields that are too large for the data - We can put them in to Microsoft Access
See AccessACT.com for technologies to allow Access to work inside of ACT!
So your data is in better condition after the conversion.
See our ACT! data cleaning services at ACTCleanUp.com
---
Examples of our Conversions from FileMaker to ACT!
Note: Names, Phone numbers, and Addresses have been changed to protect the privacy of individuals
For example, the Name has been changed to "Bruce Wayne"
| | |
| --- | --- |
| Before in FileMaker | After in ACT! |
| Company Information | Company Information |
| Notes | Notes |
| Details - User Defined Fields | Details - User Defined Fields |
---
202-829-4444
800-319-3190